Reminder: Invoices are Due!
Just a reminder, membership invoices must be paid in order to vote for Alliance officers and steering committee members at our October meeting.
Membership invoices were sent out in August. If you have been a member organization and did not receive one, please email Merrill Gay at [email protected] to let him know. If you are not a member organization, but would like to be one, you can become a member.
Limited Seating Still Available to DeLauro Event
There is very limited seating still available for a child care forum with Congresswoman  Rosa DeLauro on Monday, September 23, at 9 a.m. in Stratford. RSVP is necessary. To RSVP for the event, please click HERE.
OEC Plans October Listening Tours
Throughout the month of October, the CT Office of Early Childhood will hold community meetings/listening tour on "Prenatal Through Age 5 Family Supports." The sessions are open to parents of young children or expectant parents, community organizations, service providers, or local businesses who work with families with young children.
The sessions are meant to help the OEC plan to:
Reach and work with more families
Build connections between home visiting and other family support services
Make enrolling in and transitioning between programs easier for families
Make sure that services are accessible, equitable, and meet family needs
The meetings begin on October 8 in Killingly and end in Torrington on October 23. Times vary. To pick the session that best suits your availability and location, click HERE.
Background Check Update: Changes Effective 9/30
BACKGROUND CHECK PROCESSING FEES:
Refund of payments made between 4/22 and 5/31/19 are estimated to be mailed by the State Comptroller's office in early October. OEC is still paying the processing fees for child care background check applications postmarked on or before September 30, 2019, or until the allocated funds are exhausted. All applications postmarked October 1, 2019 or later must include the processing fee of $88.25 per staff member or $86.25 per volunteer.
PRIVACY RIGHTS:
Beginning September 30, 2019 all applications must contain the signed FBI Privacy Act Statement and Noncriminal Justice Applicant's Privacy Rights form. This is included in all background check packets provided by OEC and also may be downloaded from the background checks webpage at www.ctoec.org/background-checks. 
FINGERPRINT CARD COMPLETION:
The State Police (Department of Emergency Services and Public Protection - DESPP) 
have instructed OEC that Fingerprint cards must be fully completed in order to process the background check. All demographic information must be filled out completely, or DESPP will return it to OEC, and OEC must return to sender. Please visit www.ctoec.org/background-checks for a sample completed FP card.
INTERSTATE BACKGROUND CHECKS:
Beginning Sept. 30, 2019, OEC will check the state of residence criminal, sex offender, and child protective services registries for all staff who live outside of CT and provide child care within CT.
* NOTE: If any incomplete application materials are returned to sender, then mailed back to OEC     with a postmark date after September 30, 2019, the $88.25/$86.25 processing fee must be included. Any complete application with fingerprints that are rejected by DESPP will have a credit on file, so no fee will be needed when new fingerprints are submitted to replace the rejected fingerprint card.
Questions?  Please email [email protected] or call 860-500-4466.
Census Data Info on Poverty
Last Tuesday, the Census Bureau released its annual reports on poverty, income, and health insurance coverage. Some of the takeaways:
The number of people with health insurance dropped for the first time since 2009.
While there was a slight decline in poverty in 2018, poverty rates for children and young adults are still high.
Median income stayed the same
The Earned Income Tax Credit (EITC) and low-income portion of the Child Tax Credit lifted 7.9 million people out of poverty in 2018 and reduced the severity of poverty for millions more. SNAP and rental assistance also each lifted 3 million people out of poverty.
Some good resources regarding the annual reports:
The Center on Budget and Policy Priorities: Programs Targeted for Cuts Keep Millions From Poverty, New Census Data Show
CLASP: Children and Families in Trouble: Census Data Show Declining Health Coverage and Enduring Poverty
US Census Bureau: Income, Poverty, and Health Insurance Coverage in the United States: 2018
SAVE THE DATE: Childhood Conversations/Together We Will 2020
The annual "Childhood Conversations/Together We Will" Conference will take place Friday, April 3, 2020, in Windsor. The conference is an amazing collaboration which provides high quality professional development for early childhood professionals, after school professionals, parent educators, and parents. The conference will include a keynote, three workshop sessions, vendor hall, and a networking breakfast and lunch. Please save the date on your calendar and registration information will become available early next year. Thanks!
Northwest CT to Screen "Resilience" Film
The documentary "Resilience" will be screened on Thursday, September 26, from 5:30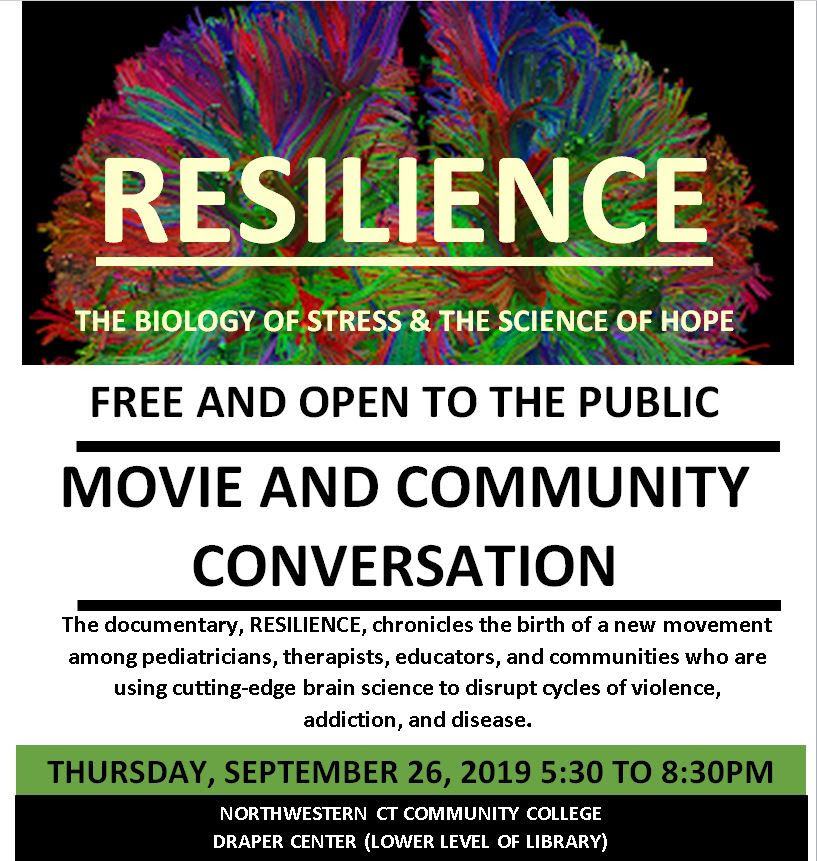 p.m. to 8:30 p.m., at Northwestern CT Community College, 2 Park Place in Winsted. (Draper Center, lower level of the library). The documentary chronicles the birth of  a movement among pediatricians, therapists, educators, and communities who are using cutting-edge brain science to disrupt cycles of violence, addiction, and disease. The film is produced by Karen Pritzker and James Redford and directed by James Redford.  The screening on September 26 will be followed by a facilitated discussion.
The screening is free, but please RSVP to reserve your spot! RSVP HERE or by emailing Lori Fedewa at [email protected].

Support for the Alliance comes from of our members and our funders: Alliance for Early Success, Connecticut Community Foundation, CT Early Childhood Funder Collaborative, a project of CT Council of Philanthropy; Community Foundation of Greater New Britain; Community Foundation for Greater New Haven; Hartford Foundation for Public Giving; and the Partnership for America's Children.

Do you like this post?