It's Not Too Late!
You can still submit testimony for Monday's Education Committee public hearing on H.B. No. 5557 (RAISED) AN ACT CONCERNING RECRUITMENT AND RETENTION OF EARLY CHILDHOOD EDUCATORS.  The bill's purpose is to establish an early childhood educator compensation schedule for early childhood educators that ensures the retention and recruitment of qualified educators, secures a standard of living that meets such educators' needs, and reflects the true costs associated with quality standards for early childhood care and education programs.
It requires OEC to develop a wage scale for early educators in publicly funded programs (those receiving School Readiness, Child Development Centers, and State Head Start) and to develop a payment rate scale to meet those wages.
The Alliance is strongly encouraging early childhood directors and teachers to tell legislators your story. If you are a director, tell them how difficult it is to recruit and retain teachers when subsidy rates are not adequate to pay them what they should be earning. If you are a teacher, tell them how you've met or are working toward the BA requirement but how low wages impacts your day-to-day life.  
Submit testimony by email at [email protected] in Word or PDF format.  Testimony should clearly state testifier name and related Bills. 
This Week at the Capitol
The Human Services Committee will hold a public hearing on Tuesday, March 8, at 12 p.m. in Room 2A of the LOB. Sign-up for the hearing will begin at 9 a.m. in the Second Floor Atrium of the LOB.  Please submit 30 copies of written testimony to Committee staff by 10 a.m. in the Second Floor Atrium of the LOB.  Testimony received after the designated time may not be distributed until after the hearing.  Please email written testimony in Word or PDF format to [email protected].  Testimony should clearly state testifier name and related Bills. Bills will be heard in the order listed in the Bulletin. Two bills of interest are listed below and they are numbered four and five, respectively.
SUBJECT MATTER:   Human Services Bills
S.B. No. 390 (RAISED) AN ACT CONCERNING A TWO-GENERATION INITIATIVE. 
S.B. No. 391 (RAISED) AN ACT CONCERNING THE RECOUPMENT OF STATE COSTS ATTRIBUTABLE TO LOW WAGE EMPLOYERS.  
Early Childhood Advocacy Day
Tuesday, April 26, from 10 a.m. to 1 p.m., is the date of the Alliance's annual Advocacy Day. The event will take place in Room 310 of the Capitol (old Appropriations Room). This event, with issue-based presentations, is best suited for adults - parents, teachers, program directors, early childhood advocates. To RSVP, click HERE. (Local early childhood councils - keep a look out for a "Save the Date" for a local early childhood council advocacy day being planned for April 13 that will focus solely on issues affecting local councils. More information to follow.) 
Middlesex Coalition for Children to Host Legislative Check-In
On Thursday, March 10, the Middlesex Coalition for Children will host a legislative check-in with Middlesex County legislators. This check-in is being held in lieu of the annual legislative breakfast. The event will take place from 9 a.m. to 10:15 a.m. at the deKoven House in Middletown.  Guests include: Senators Paul Doyle and Dante Bartolomeo; Representatives Matthew Lesser and Melissa Ziobron (tentative). Legislators will talk about the state budget and discuss the important bills that are making their way through the various committees.
CT's Low Wage Employer Advisory Board Meeting - Speak Out for Child Care That Works!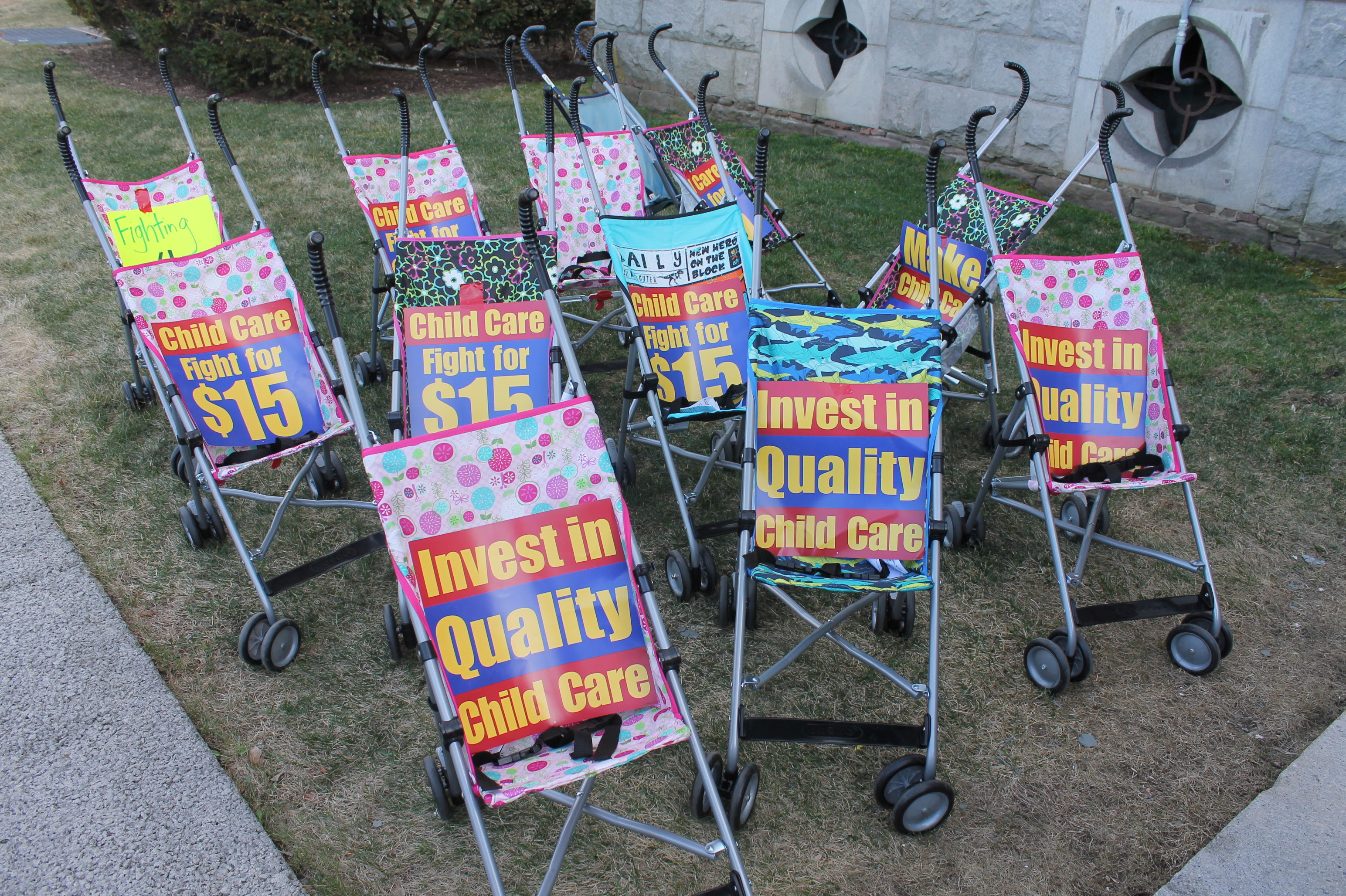 Connecticut's Low Wage Employer Advisory Board wants to hear the needs of underpaid workers. Parents, child care directors, teachers, providers and aides should tell the board why there needs to be an investment in child care workers as the cornerstone of quality. This board will make recommendations to the Office of Early Childhood, which funds child care and early learning programs in Connecticut. The meeting is Tuesday, March 22, at 6:30 p.m. at the City of New Haven Hall of Records, 200 Orange Street, Room G-2 (ground floor). Parking is available on the street or in public garages. Please RSVP to Shola Ajayi at 202-288-3378 or at [email protected]. One last step - let us know you're going to this meeting by RSVP'ing to the Alliance HERE. 
CLASP Webinar Focuses on Disparate Access to Head Start, CCDBG Funds
On Thursday, March 10, CLASP will hold a webinar on its new report, "Disparate Access: Head Start and CCDBG by Race and Ethnicity." The hour-long webinar runs from 1 p.m. to 2 p.m. For more information or to register, click HERE.  
Childhood Conversations Conference Approaching!
There's less than a month to go for the 10th Annual Childhood Conversations Conference, held April 2 at the Hartford-Windsor Airport Marriott in Windsor, CT. Six professional development hours are available for this event, which offers a variety of workshops and vendors, networking opportunities, and fun lunchtime entertainment. To register for the event, visit the Childhood Conversations website. Early-bird pricing is good until March 18! 
Governor's Town Hall Meeting Update
The Governor continues to hold town hall meetings to discuss his proposed budget and other topics of interest to the Connecticut citizenry. The next public hearing will take place Wednesday, March 9, 7 p.m. to 8 p.m., at UConn School of Law, Reading Room of William F. Starr Hall, 45 Elizabeth Street, Hartford. Residents who would like an opportunity to ask the Governor a question should arrive about 30 minutes prior to the start of the event to submit their name on a sign-up sheet. Oftentimes, these town hall meetings are scheduled with short notice - you can find the dates scheduled HERE (at the bottom of the page). 
Save the Date!  
On April 6, 2016, the State Education Resource Center (SERC), in collaboration with several other organizations, will be hosting the 23rd Annual Together We Will Early Childhood Conference in Cromwell. Participants will learn about supporting families and children who experience circumstances such as child and maternal trauma, substance abuse and unstable housing as well as supporting children with developmental delays. Click HERE to register!  
Do you like this post?