55,775 Home Visits!
The 2017 Homevisiting Yearbook is available and the state profile for Connecticut delves into the numbers of families served, plus other topics including race, ethnicity, caregiver education, child's age, primary language, and insurance status.  Models implemented in Connecticut include: Child First, Early Head Start, Nurse-Family Partnership, and Parents as Teachers. Statewide, 86 local agencies operated at least one of these models. As we push for Congress to re-authorize MIECHV, please share this graphic to help explain how valuable home visiting is.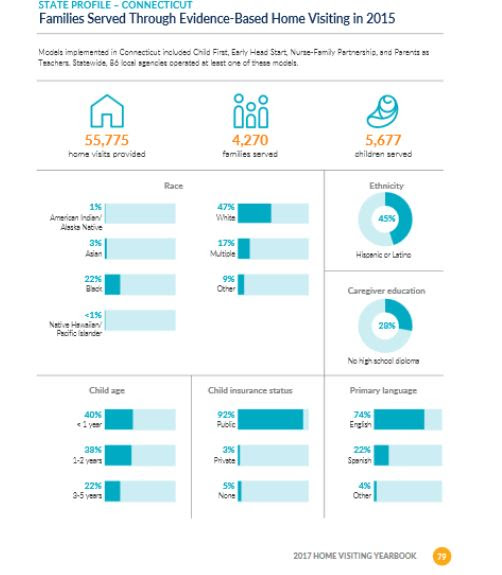 Is the End in Sight? 115 Days and Counting...
Day 115 without a state budget, but in the early hours of the morning, legislative leaders announced they had reached a new bi-partisan agreement. The documents are still under wraps, as it hasn't been run by the caucuses or the governor. We will watch for its release and review the impact on early childhood programs and services.
Hospital Focuses on Mom-Centered Approach Regarding Opioid Treatment for Babies
The CT Mirror recently published an article about a program pioneered by Yale New Haven Children's Hospital that makes the mother the centerpiece for the baby's treatment. It improves recovery outcomes for both of them. "These women are so highly stigmatized," said Dr. Christopher Morosky, Associate Professor of Obstetrics and Gynocology at UConn School of Medicine. "To hear your doctor say, 'We need you; you are the baby's treatment; you're the thing that's going to help your baby get through these next few days' … it's empowering for these families." To read the full article, click HERE.  
Zero to Three Virtual Event
on Thursday
On Thursday, October 26, from 2 p.m. to 3 p.m. EDT, Zero to Three will host a free virtual event featuring Bryan Stevenson, MPP, JD from the Equal Justice Initiative. He was a keynote plenary speaker for the 2016 Zero to Three Annual Conference. With stories and facts from his decades of experience defending children and adults in the criminal justice system, Professor Bryan Stevenson will talk about our nation's past and continuing widespread inequities. He suggests pathways to hope with both intervention and policy ideas involving the youngest children and their families. IMPORTANT: You must attend live in order to view this event, no archive will be available, so be sure to mark your calendars! Click HERE to register. If you don't already have an account, it will require you to set one up.
New Toolkit: How Can Businesses Engage in Early Education?
Is your local Chamber of Commerce interested in early childhood education? The U.S. Chamber of Commerce Foundation has published a toolkit detailing the innovative ways businesses can lead the way to provide high-quality, affordable and accessible childcare for families around the country. The toolkit includes key facts, such as the change in demographics in the workforce. The toolkit can be found HERE. 
CT-AIMH Fall Conference is Coming Up Soon!
Early childhood providers - mark your calendars for November 16, 8:30 a.m. to 4 p.m. at WoodWinds in Branford, for the annual CT-AIMH Fall Conference. This year's keynote is Dr. Suzi Tortora, EdD, BC-DMT.  Space is limited, so register now. Breakfast and lunch will be provided and NASW CECs are available.

Do you like this post?