Time and Tickets are Running Out for the Gubernatorial Forum!
We have just a few days left until the gubernatorial forum and seats are becoming extremely scarce! RSVP now. Find out where the candidates (confirmed: Lamont and Griebel) for governor stand on early childhood and family economic success issues. The event is October 3 at CCSU's Memorial Hall Constitution Room and starts at 5:30 p.m. with light refreshments. The forum kicks off at 6 p.m. Each candidate will take questions for 30-45 minutes. Christine Stuart of CT News Junkie will moderate and there will be a panel of early childhood leaders. Wear your "We Vote for Kids" t-shirts if you have them! 
Click on the screenshot to see the video associated with the event!
Early Childhood Issues are Important - Let's Vote for Kids!
We Vote for Kids is the CT Early Childhood Alliance's non-partisan campaign to raise early childhood issues in the election. It has two components: candidate education and voter engagement. As a non-profit organization, the Alliance cannot endorse candidates. We are asking people to Pledge to Vote with kids in mind on November 6. We are also asking the candidates for governor down to state representatives where they stand on early childhood issues through a questionnaire that we will share with you, so you can make informed decisions.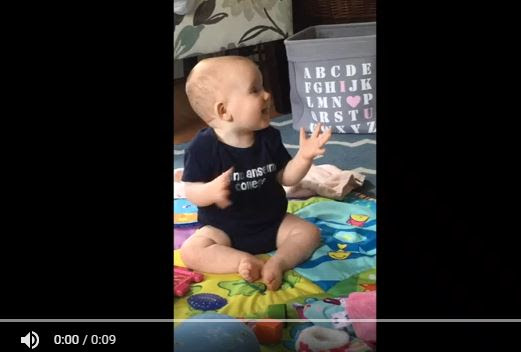 Short videos like this (click the screenshot to see the video) are key to spreading the word through social media. We would love to share short videos of cute kids saying, "I'm too little to vote, but you can," or having adults talk about why it's so important to vote with children's issues in mind. Contact Jessica at [email protected] if you have video clips you can share. When sharing a video on Facebook or other social media, please include "Take the Pledge to vote at www.wevoteforkids.org," and use the hashtag #WeVoteForKids so we can find it and set your privacy setting on that particular video to "public" so we can share it, too.
Have you checked to see if your registration is up-to-date? Use the Secretary of State's tool to check to see if you are registered to vote.
You can register to vote online.
Congress Approves Funding Increase for Federal Early Childhood Programs
(From First Five Years Fund) Congress has approved a Fiscal Year 2019 "minibus" appropriations package that includes $260 million in increases to federal early childhood education programs. This includes a $200 million increase to Head Start and Early Head Start, $50 million for the Child Care and Development Block Grant (CCDBG), building on the $2.37 billion increase the program received in FY2018 through a bipartisan deal made by House and Senate leaders.
The funding package also includes FY2019 funding for the Department of Defense, as well as a short-term Continuing Resolution to fund the rest of the government through December 7, 2018, was overwhelmingly approved in a 361-61 vote, and now awaits the president's signature. To read more, click HERE.
Farm Bill: September 30 Has Come and Gone
The 2018 Farm Bill was up for re-authorization by September 30, but the negotiators still remain a fair distance apart between the House and Senate versions of the bill. The Farm Bill includes SNAP, but SNAP will continue. One of the sticking points has to do with work requirements for able-bodied adults. To read more, click HERE.
Pathways to Quality: CTAEYC Conference
The 2018 Pathways to Quality CTAEYC Conference is Friday, October 19 and Saturday, October 20 at the Red Lion Hotel (formerly the Raddisson), 100 Berlin Road in Cromwell. Friday includes the Early Childhood Leadership Day, with keynote speaker Amy O'Leary, Director of Early Education for All. Saturday's keynote is Jeanine Fitzgerald, a certified human behavior consultant and specialist. The conference brochure can be found HERE. Registration deadline is October 10!
CT Early Childhood Cabinet Meeting Slated for October 18
The CT Early Childhood Cabinet will meet Thursday, October 18, from 2 to 4 pm. The meeting will either be held at 450 Columbus Boulevard, Hartford, Conference Room D, Plaza Level, or at the Legislative Office Building – location will be confirmed prior to the meeting. An agenda will also be shared prior to the meeting.

Support for the Alliance comes from of our members and our funders: The William Caspar Graustein Memorial Fund, Connecticut Health Foundation, Connecticut Community Foundation, Children's Fund of Connecticut, CT Early Childhood Funders Collaborative, a project of CT Council of Philanthropy; The Community Foundation of Eastern Connecticut; Community Foundation of Greater New Britain; and Community Foundation of Greater New Haven.  
Do you like this post?