Don't Forget to Vote!
We're a year away from the next presidential election, but Tuesday, November 5, 2019 is important on the local side. All across the state, residents will head to the polls to vote for mayors, town council and board of education members, and other municipal board positions. Polls are open 6 a.m. to 8 p.m. across the state. If you are in line at 8 p.m., you can vote. Connecticut also allows for Election Day Registration - check with your local registrar of voters office for more information. Election information can be found on the Secretary of State's Office website HERE. 
National Call-In Day of Action
The Coalition on Human Needs is planning a day of action call-in to U.S. Senators to support low-income tax credits.
Right now, Congress is looking to add bipartisan tax legislation to the end-of-year budget package. It is imperative that if there is any tax legislation helping businesses and the rich that we also do what we can to help low-wage workers. The Earned Income Tax Credit (EITC) and the Child Tax Credit (CTC) help working families and individuals better provide for basic needs. These two tax credits together lifted 8.9 million people out of poverty in 2018, and helped millions more, and wit
h improvements they can do more to alleviate poverty and help low-income families keep up with the increasing cost of living.
On November 6, please call: 1-888-678-9475
When you do you will be connected with your Senator's DC office. When you are connected please ask the receptionist who answers your call to share this message with your Senator and their lead tax staff person:
"Any tax package that passes this year must include improvements to the low-income tax credits: the Earned Income Tax Credit and the Child Tax Credit."
More Background: The overwhelming beneficiaries of the Tax Cut and Jobs Act of 2017 (TCJA) are corporations and wealthy individuals while largely ignoring low-wage workers, whose wages have been stagnant in recent decades, and their families. Congress will likely add a bipartisan package of tax provisions to end-of-year budget legislation including 'technical corrections' for business provisions in the TCJA. Those corrections will add more tax breaks worth billions for business. Senators need to hear from us now that any tax package must help low-income workers.
The 2017 law included a highly touted $1,000-per-child increase in the CTC (from $1,000 to $2,000 per child). However, low-income working families with 11.4 million children are receiving only a token CTC increase of $75 or less. The reason is because under the 2017 law the CTC doesn't start to phase in until a tax filer has more than $2,500 in earnings, and it then phases in slowly. And if a family's CTC would exceed the federal income tax it owes the family cannot receive more than $1,400 per child as a tax refund.
The EITC for low-wage workers who aren't raising children in their home is often too small even to offset the income and payroll taxes that these workers must pay, and doesn't cover workers of all ages. That's the main reason why the federal tax code taxes more than 5 million such workers into or deeper into poverty. Despite longstanding bipartisan support to boost the EITC for these workers, the 2017 tax-cut law failed to include it.
State Kicks in $500,000 to Match Philanthropic Community for 2020 Census Outreach
On Thursday, Lt. Governor Susan Bysiewicz announced $500,000 in state funds to match $500,000 from the philanthropic community for 2020 Census outreach.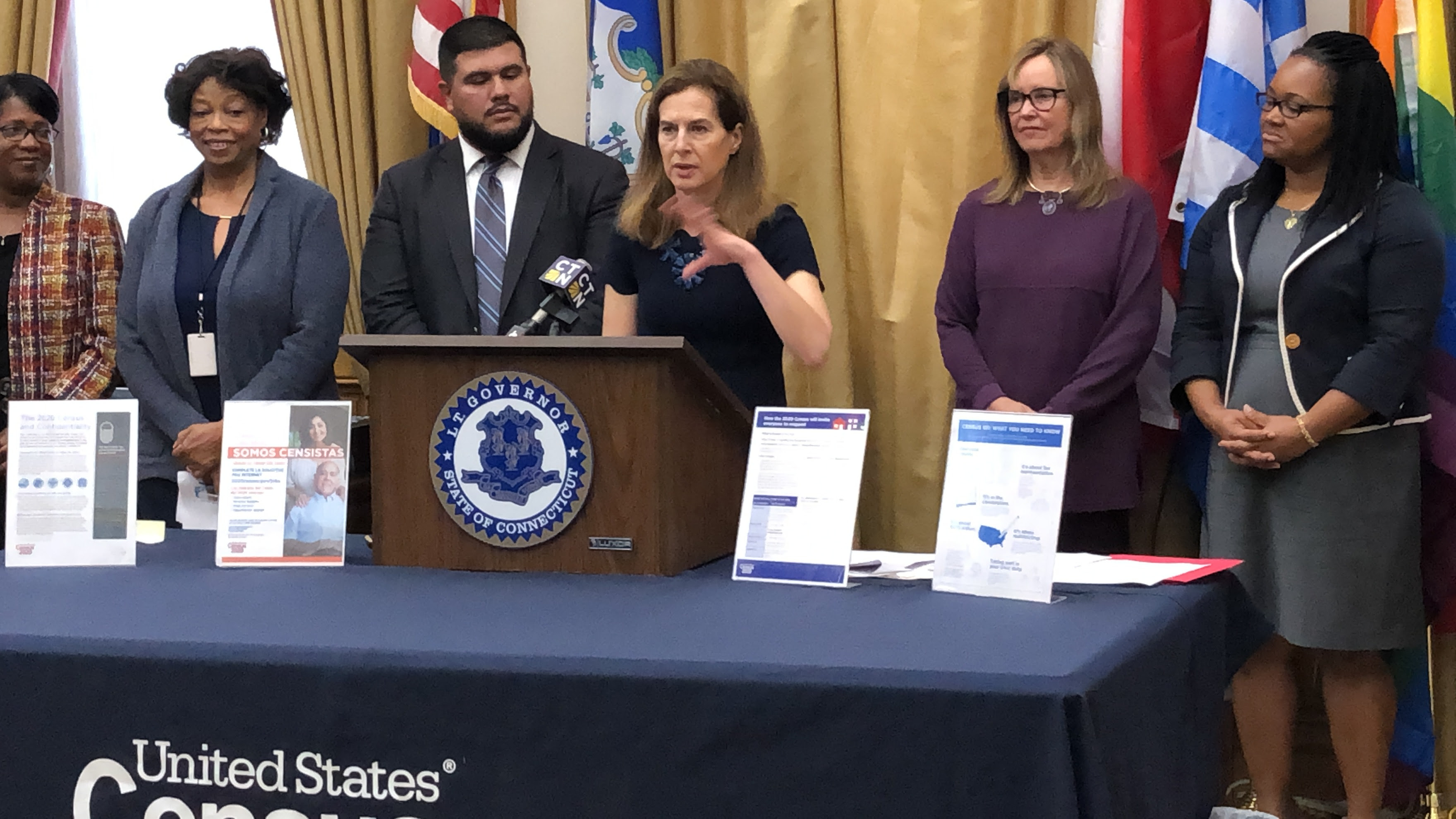 Funding will come from the Department of Social Services ($300,000), Department of Mental Health & Addiction Services ($100,000), CT Office of Early Childhood ($50,000) & Department of Public Health ($50,000) - all of which benefit from federal dollars. The state receives $10.7 billion in federal funding each year for services like SNAP, Head Start, the Federal School Lunch Program, & Medicaid. Children between the ages of 0-5 have often been left out of the Census count & an overall undercount costs CT in federal funding & possibly Congressional representation. We must #CountAllKids.
Visit the Alliance's Facebook page (search "CT Early Childhood Alliance") to see a video we created from the event last week. The Alliance will be active in making sure children and families are counted in the 2020 Census - more information to come.
CT NewsJunkie and CT Mirror both wrote articles on the event.
Children's Mental Health Care and Public/Private Divide
Do you work with children and families? Have you ever tried to refer them to mental or behavioral health care supports? Have you hit roadblocks? Insurance? Age? Level of care needed, etc.? Join the Middlesex Coalition for Children for a discussion on mental and behavioral health access, what the barriers are, and how different the experience of finding care can be with private or public health insurance. A panel of experts will walk you through the challenges and considerations of getting the best health care possible for children and families in crisis. The event is Thursday, November 14, 9 a.m. to 10:15 a.m., deKoven House, Middletown. 
DCF Meeting Planned for November 6
CERCLE will be convening another meeting with DCF to discuss DCF's payment process to child care providers, on Wednesday, November 6, from 6:30 p.m. to 8 p.m., at Connecticut Center for Arts and Technology (CONNCAT), 4 Science Park, New Haven. Cindy Butterfield, DCF's fiscal manager, as well as other representatives from DCF, will be in attendance. Come with questions, concerns, and bring any unpaid invoices you may have. Space is limited. Spanish translation is available. RSVP HERE. REGISTRATION DEADLINE is NOVEMBER 5!
NIEER/SDE Research Survey - Seeking Director Participation
Child care center directors are being invited to participate in a research opportunity that will help the CT Department of Education (SDE) improve the quality of preschool for children with disabilities and for all children.
CSDE is contracting with the National Institute for Early Education Research (NIEER) to learn about the settings in which preschool children with IEPs receive services, including child care centers, Head Start, and public schools. As part of this you may be contacted by NIEER to complete a survey about your preschool programs. Information will only be reporting in aggregate. NO identifiable information will be shared with CSDE or anyone else. Information collected through the survey will be used to improve preschool in CT, including targeting resources where they are most needed and developing professional development topics.
You will receive an electronic gift card when you complete the survey.
NIEER will also be hosting an informational webinar about the study:
Monday November 4 at 3:30 p.m.
You can join the webinar using the following:
Join Zoom Meeting: https://zoom.us/j/577544896
Meeting ID: 577 544 896
+1 646 876 9923 US (New York)
Childhood Conversations/Together We Will Request for Presenters
The 2020 conference is seeking presenters for Friday, April 3, 2020, at the Hartford-Windsor Marriott. The conference theme is: "Together We Will...Explore the Landscape of Equity and Bias Through the Lens of Social-Emotional Learning." The conference planners are seeking workshop proposals that provide participants with the opportunity to learn about relevant and timely topics related to equity and bias in the context of Social-Emotional Learning (SEL). Proposal deadline is Friday, November 29. The RFP can be found at http://childhoodconvo.wpengine.com/

Support for the Alliance comes from of our members and our funders: Alliance for Early Success, Children's Fund of Connecticut, Connecticut Community Foundation, CT Early Childhood Funder Collaborative, a project of CT Council of Philanthropy; Community Foundation of Greater New Britain; Community Foundation for Greater New Haven; Hartford Foundation for Public Giving; and the Partnership for America's Children.
Do you like this post?