Appropriations Committee Doesn't Vote on Budget Plan
Here's how things are shaking out at this moment: The good news - the budget the Appropriations Committee planned to vote on on Tuesday put additional money into Care4Kids ($10 million over the Governor's proposal and approximately $3 million above the current appropriation) and partially restored funding for Family Resource Centers. The bad news - Even Start, Help Me Grow and Community Plans were all zeroed out of the budget. The REALLY bad news - what was presented Tuesday was probably the high water mark for spending - it won't get any better. And the committee couldn't get the votes to pass that budget. The Republicans noted they will release their own budget plan by the end of the week and it's unclear if the Appropriations Committee will be voting on a budget by their deadline. It's also unclear if the Finance, Revenue and Bonding Committee will have a revenue package ready by its committee deadline on Friday. Everyone needs to be contacting their legislators. If you would like to take a look at what was presented by the Appropriations Committee on Tuesday, click HERE. Remember, this budget plan did not get a vote. This article and this article on CT Mirror explains what happened on Tuesday. This article on CT Newsjunkie from April 20 explains where the Finance Committee might go with revenue. This CT Newsjunkie article also explains what went on Tuesday with the Appropriations Committee. Governor Malloy issued a statement following the collapse of the Appropriations vote on Tuesday.
Advocacy Day Brings a Sea of Red to the Capitol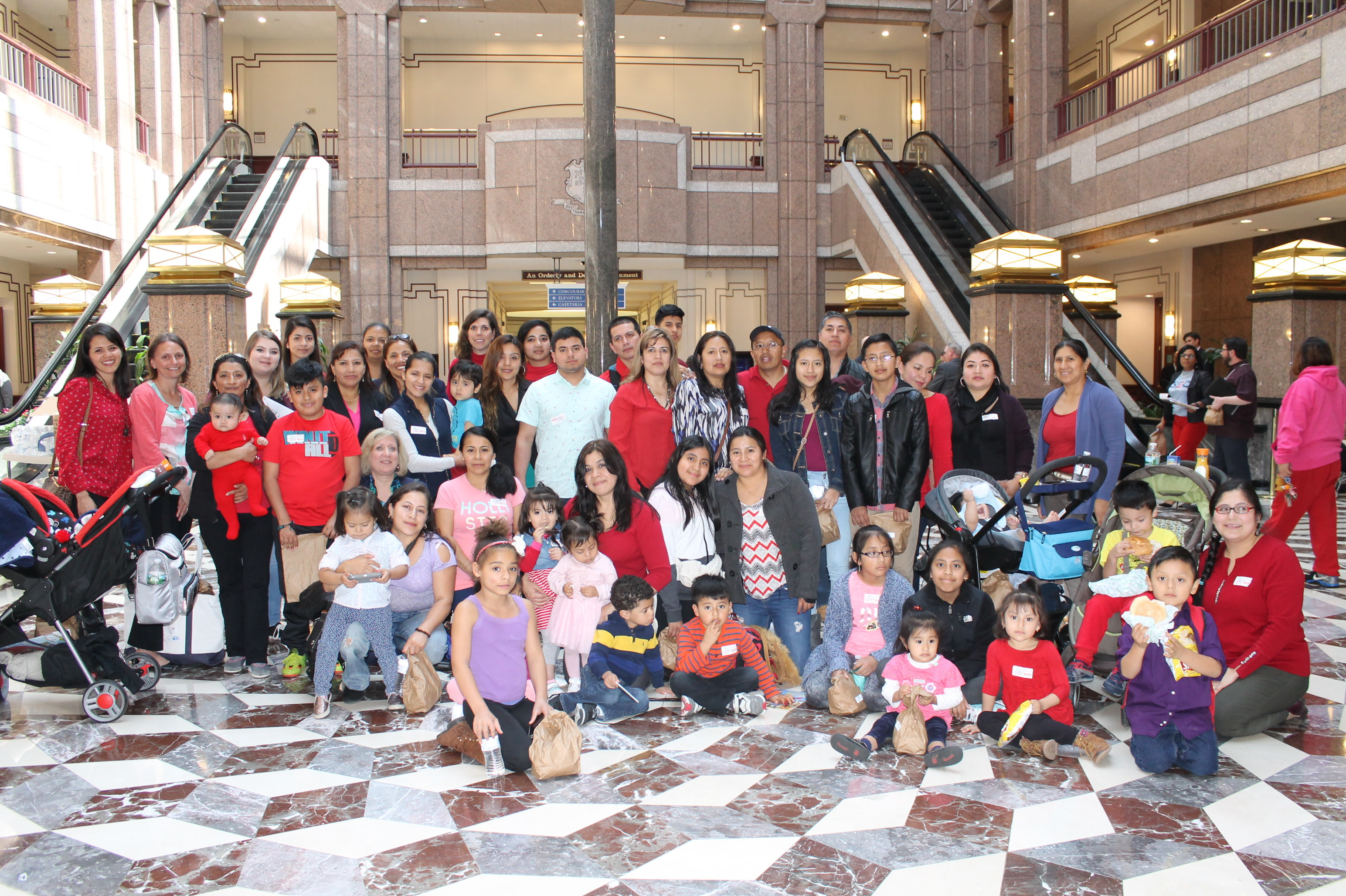 The Capitol's Old Judiciary Room, as well as an overflow room in the LOB were filled with advocates who came to Hartford on April 20 to learn more about the current early childhood issues (Care4Kids program closed to new applicants and impact, early childhood in the budget, workforce issues) and met with their legislators to share their stories and how choices made in Hartford reach their communities. Several legislators stopped by throughout the 90 minute program. You can watch the CT-N broadcast of the event by clicking the link. Advocacy Day was mentioned in the CT Mirror article announcing the new OEC Commissioner, an announcement that happened the same day (see more information below).

Care4Kids Waiting List
There are now 3,000 families on the Care4Kids waiting list. Are you one of them? Or do you know someone who is? We're collecting stories. Please contact Jessica Ciparelli at the CT Early Childhood Alliance and share some background detail - how long have you been on the list and what impact has the closure had on your life. We would like to compile a list of individuals who would be willing to speak to reporters or to otherwise get the word out on how this closure impacts your life and that of your family's life. Jessica can be reached by email at [email protected] 
Governor Malloy Names New OEC Commissioner
On the same say as the Alliance's Advocacy Day, April 20, Governor Malloy appointed a new commissioner (click for the Governor's press release) to the Office of Early Childhood. David Wilkinson of Hartford, former Director of the White House Office of Social Innovation and Civic Participation under President Barack Obama, starts his new job on April 28. Wilkinson replaces Dr. Myra Jones-Taylor, who left the OEC on September 1, 2016. Linda Goodman, OEC Deputy Commissioner, served as the interim commissioner between Jones-Taylor's departure and Wilkinson's arrival.
Equitable Access to Early Care and Education: Charting a Path of Opportunity for All Children
On Thursday, May 4, from 1 p.m. to 3 p.m., in Room 1D of the LOB, the Connecticut Commission on Women, Children and Seniors and the CT Office of Early Childhood will host a discussion on equity and access to in early childhood. The convening will focus around a recently-released policy book on early care and education, entitled "Cradle to Kindergarten: A New Plan to Combat Inequality." Authors Ajay Chaudry and Christina Weiland will lead the conversation and discuss their research and recommendations.
Campaign for Paid Family Leave to Host "A Seat at the Table"
On Thursday, May 4, from 6 p.m. to 8 p.m., the Campaign for Paid Family Leave will host "A Seat at the Table: Women of Color Conversation on Paid Medical and Family Leave." The panel discussion will focus on the voices and stories of women of color and how they've been impacted by a lack of paid leave. For more information, click HERE.


Support for the Alliance comes from of our members and our funders: The William Caspar Graustein Memorial Fund, Connecticut Health Foundation, Children's Fund of Connecticut, Connecticut Community Foundation, Community Foundation of Greater New Britain, Community Foundation of Greater New Haven, The Fund for Greater Hartford, and The Eder Family Foundation

Do you like this post?